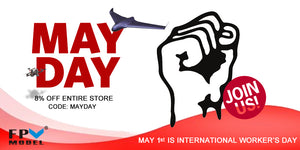 8% oFF Entire Store May Day Promotion
Happy Labor Day to all the hard working pilots, engineers, police, firefighters, truck drivers, teachers and other workers who have made this world wonderful.
Labor Day, also known as International Workers Day in some countries, is a celebration of labourers and the working classes that is promoted by the international labour movement, socialists, communists or anarchists and occurs every year on May Day (1 May).
On celebrating the International Workers Day, FPV Model will take a break from April 29th to May 1st. We are giving 8% off on all orders placed now and during the holiday. You can apply the coupon code MAYDAY at the checkout page to take this advantage. 
Kindly noted that your order placed during the holiday period will not be shipped until May 5th.
For any question, please send your email to sales@fpvmodel.com or leave your comments on our facebook page http://www.facebook.com/fpvmodel, well reply to you as soon as we can.
Thank you all for always great support and happy Labor Day!  
Sincerely.
Team FPV Model
---