Mugin EV350 Full Electric Carbon Fiber VTOL UAV Platform
EV350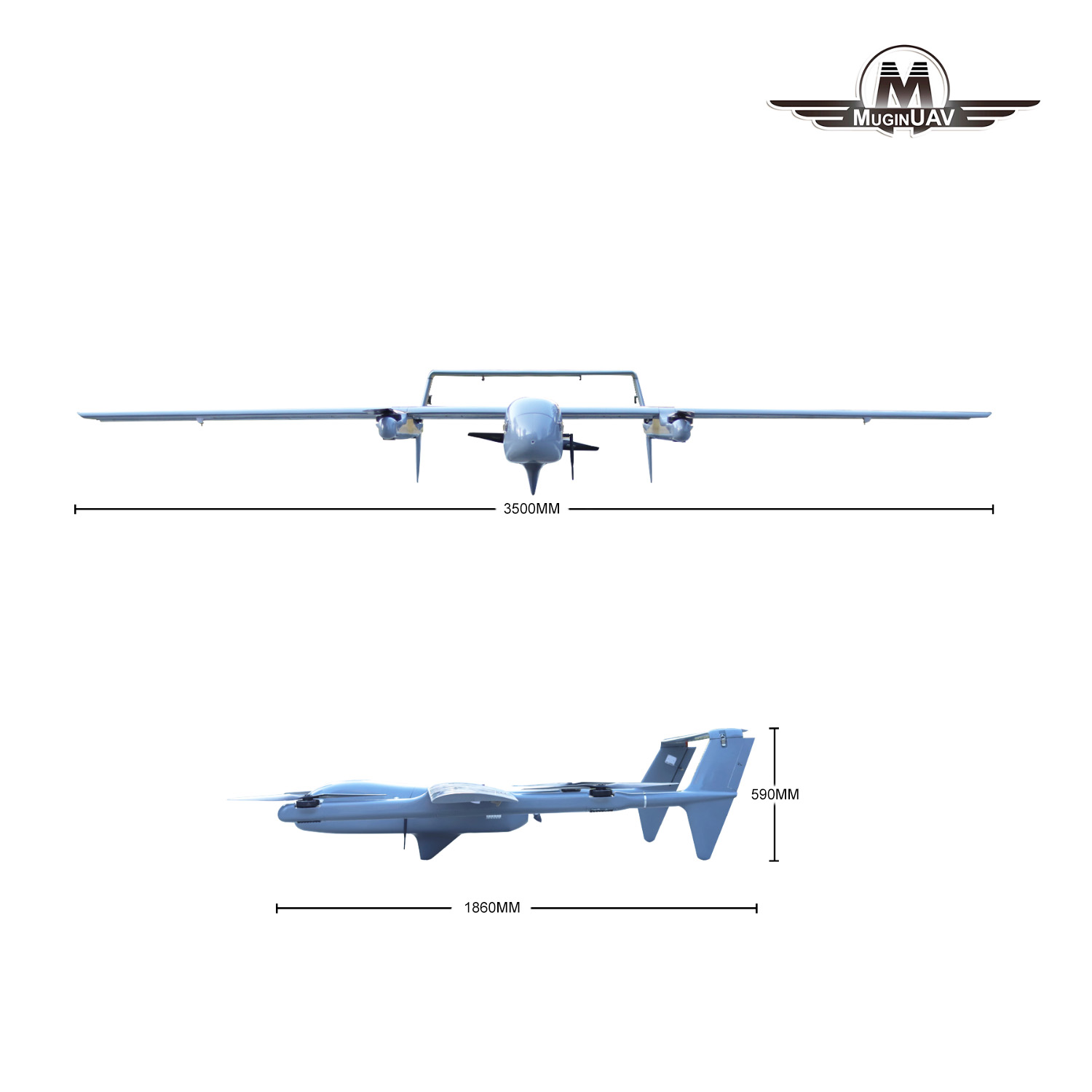 Mugin EV350 is a new full electric VTOL with a wingspan of 3500mm. The airframe is made of full carbon fiber which is lighter and more durable than other airframes that made of fiberglass or composite materials.
The new VTOL features the quick-detach design which is easy to assemble and disasemble. It also features in the aerodynamic design of landing gear. The airframe comes with only 3 landing feet, save the space and weight, but still very stable while taking off or landing.
As per our internal tests, the flight time can be up to 3 hours with full electric setup:
Zero Payload: 2:58 Hours
1kg Payload: 2:45 Hours
2kg Payload: 2:30 Hours
3kg Payload: 2:15 Hours
Price for empty airframe only. It does not contain the motors, ESCs, props, servos and others that showed in the product pictures.
Specifications:
Wingspan: 3500mm
Length: 1860mm
Height: 590mm
Fuselage Dimensions: 1120mm x 225mm x 206mm
Wing Are: 100d㎡
Empty Weight: 11kg
Maximum Take-off Weight: 22kg
Cruise Speed: 21m/s
Maximum Speed: 30m/s
Stall Speed: 15m/s
Flight Time: 2 to 3 Hours, depending on the payload
Flight Range: 180km
Maximum Payload: 3kg
Packing dimensions: 1500mm x 545mm x 610mm
Wind Resistance: grade 6
Recommended setup (Not included):
Forward Motor: Dualsky XM6360EA-19 220KV x 1
Forward ESC: Hobbywing 120A 12s x 1
Forward Propeller: 21″ x 1
VTOL Motor: Eaglepower UA90 150KV x 4
VTOL ESC: Hobbying 80A 12S ESC x 4
VTOL Propeller: Eaglepower UC2480L 24″ Propeller x 4
Lipo Battery: Tattu HV 32000mAh 6S 10C x 2